This is Part 3 of a Three Part series of ranking all the Housewives I've met so far. You can find Part 1 here and Part 2 here. 
So, when I found out that all of the Housewives franchises were on Hulu I figured it was time to get invested in them. One of my friends had added me to a Bravo group on Facebook, and so I decided to dive in. I started with Vanderpump Rules and it's been downhill from there. I've thought it would be fun to rank all the Housewives since I'm watching all the seasons in the order they aired, and then rerank and add the new housewives as I watch. I'm currently on Season 3 of Atlanta, and I've decided to do a three-part post series on my current rankings. As I finish future seasons, I'll make one post with the new rankings, and how I got them. I'll make a page with my current Housewife rankings so y'all can reference it if you so desire. As of right now I have seen:
Real Housewives of Orange County Seasons 1-4
Real Housewives of New York Seasons 1-3
Real Housewives of Atlanta Seasons 1 & 2
Real Housewives of New Jersey Seasons 1 & 2
Real Housewives of DC Season 1
Vanderpump Rules Seasons 1-5
These posts are going to be much longer because I'm going to explain why everyone is where they are, in the future when they're updated after each season, I'll detail the choices I made, and how I made them. I use a website called FlicksChart. I assign every person a movie, and use their ranking system to determine this. Some of these I don't 100% agree with, but it happens. Without further ado, counting down from 46, this will have Housewives 10-1
#10 – Ramona Singer (Real Housewives of New York)
Does it get any better than Ramona's pure insanity? From Turtle Time to her screaming for Mario, to her walking down the runway looking like she was being held hostage, Ramona always makes me laugh. She's crazy, but she knows it, and I just genuinely love this woman.
#9 Jill Zarin (Real Housewives of New York)
My mom and I have always talked in thick Jewish mother accents to each other whenever we offer advice to each other, and when Jill Zarin opened her mouth for the first time, I knew that I would love her. Granted in the whole Jill v. Bethenny debacle of season 3 I 100% sided with Bethenny, but I love Jill's ferocity. I love her sense of humor, and her loyalty.
#8 Kristen Doute (Vanderpump Rules)
Now if you would have told me Kristen Doute would have made my top ten when I first started watching Vanderpump Rules I would have called you a liar. I honestly hated her so much while she was trying to sabotage Ariana and Tom Sandoval. She was clearly still in love with him, and she seemed really conniving. However, now? I love this woman. I want her to be my friend. Yes, she'll fuck your boyfriend, but you know, she'll apologize and be funny afterward to make up for it right?
#7 Kandi Burruss (Real Housewives of Atlanta)
"Don't Think I'm Not" has been my jam for a REALLY LONG TIME, but I really love Kandi. She's not afraid to tell it like it is, but she also is committed to helping her friends and seems to be a pretty loyal friend. Honestly, Kim doesn't deserve Kandi's friendship, and I wish we saw more of her!
#6 Bethenny Frankel (Real Housewives of New York)
The queen bee herself, Bethenny Frankel. Man do I love her. She's unabashed about her issues, but also not ashamed to call people out. One of the things I really do admire about Bethenny, however, is that she really does try to give everyone a chance. While she's snarky and funny, she's not too proud to apologize when she hurts others. I really admire this about her, because while I admire strong women, I also admire women who aren't afraid or too proud to admit when they were wrong or hurt someone.
#5 Katie Maloney-Schwartz (Vanderpump Rules)
I'm pretty sure that Katie is me in a different body. We have a lot in common, like how us + tequila is a bad idea. She has issues, and can rage text, but overall I really do love her, and wish her nothing but happiness and goodness. I really think I like her so much because we're so similar.
#4 Tamra Judge (Real Housewives of Orange County)
I have NO IDEA why I love Tamra Judge the way that I do, but I really really do. She makes me laugh, she's a good mom, and while her husband is kind of a dick, I really love the way that she just interacts with the world (I know this is weird). I. love. Tamra. Judge. And if that's wrong, I don't want to be right.
#3 Stassi Schroeder (Vanderpump Rules)
Stassi is my queen, and honestly, I thought she for sure would be number 2, but I think I subliminally knocked her points for that random leaving in the middle of a season. Stassi is everything I wish I could be. Also, the fact that she got a breast reduction makes me feel like a kindred spirit with her. She's seriously my favorite, and the way she interacts with her fans is just really amazing and wonderful. Stassi Schroeder FOREVER.
#2 Teresa Giudice (Real Housewives of New Jersey)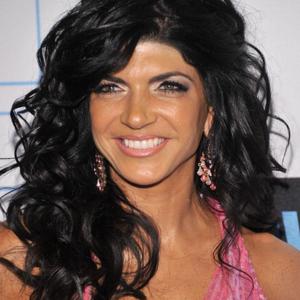 Teresa is seriously one of the funniest people I have ever seen on television. Her relationship with her daughters is hilarious, and such a joy to watch. I think the reason she is so high on here for me is because of just that, she's really fun to watch and I love her relationship with the Manzo's.
#1 Lisa Vanderpump (Vanderpump Rules)
MY ULTIMATE QUEEN. I wish Lisa Vanderpump was my mom but also I want to be Lisa Vanderpump when I grow up. She's kind and loving, but funny and witty. She wants the best for the people she cares about but isn't afraid to call people on their shit. I seriously can't get enough of her and I can't wait to start Beverly Hills just for her.
So that's it! What did you think? Do you agree? Disagree?